2002 Journal | 2004 Journal | 2005 Journal
2007 Journal | 2011 Journal
If we've given a link to a B&B, we recommend it. It should be easy to spot the ones we don't recommend.
Pricing given in either US dollars or Euros depending on our whim.
Exchange Rate in 2007 was 1.48 dollar to 1 Euro.
All images are the property of Karott.com, please respect our effort in making them available.
You can purchase some of them here or contact us for usage information.


2007-2008
View Map of Route. Clicking on a number on the map will take you to that location in the journal.
View Gallery of the best images of our 2007-8 trip.
We started this trip with B&B reservations in Dublin for the first few days, then headed down thru Avoca to Inchigeelagh. From there we dropped down to the Sheep's Head for a night and then to Castletownbere to stay with our friends the Harringtons. We spent Christmas and Wren's Day in Ballyferriter and then spent a lovely night in Camp. Then off to Co. Clare and Kilfenora. We planned to stay a week and then wander North, but weather and Clare inspired us stay two weeks and then fly out of Shannon.

Itinerary:
Wednesday 12/12 - Portland, OR to Dublin
Thursday 12/13 - 'Round Dublin
Friday 12/14 - More 'Round Dublin
Saturday 12/15 - 'Round and 'Round Dublin
Sunday 12/16 - Dublin to Avoca, Co. Wicklow
Monday 12/17 - Avoca, Co. Wicklow to Inchigeelagh, Co. Cork
Tuesday 12/18 - Inchigeelagh, Co. Cork
Wednesday 12/19 - Inchigeelagh, Co. Cork
Thursday 12/20 - Inchigeelagh, Co. Cork to Kilchrohane, Co. Cork
Friday 12/21 - Kilchrohane, Co. Cork to Castletownbere Co. Cork
Saturday 12/22 - Castletownbere Co. Cork
Sunday 12/23 - Castletownbere Co. Cork to Ballyferriter, Co. Kerry
Monday 12/24 - Ballyferriter, Co. Kerry
Tuesday 12/25 - Ballyferriter, Co. Kerry
Wednesday 12/26 - Ballyferriter, Co. Kerry
Thursday 12/27 - Ballyferriter, Co. Kerry
Friday 12/28 - Ballyferriter, Co. Kerry

Saturday 12/29 - Ballyferriter, Co. Kerry to Camp, Co. Kerry
Sunday 12/30 - Camp, Co. Kerry to Kilfenora, Co. Clare
Monday 12/31 - Kilfenora, Co. Clare
Tuesday 1/1 - Kilfenora, Co. Clare
Wednesday 1/2 - Kilfenora, Co. Clare
Thursday 1/3 - Kilfenora, Co. Clare
Friday 1/4 - Kilfenora, Co. Clare
Saturday 1/5 - Kilfenora, Co. Clare
Sunday 1/6 - Kilfenora, Co. Clare
Monday 1/7 - Kilfenora, Co. Clare
Tuesday 1/8 - Kilfenora, Co. Clare
Wednesday 1/9 - Kilfenora, Co. Clare
Thursday 1/10 - Kilfenora, Co. Clare
Friday 1/11 - Kilfenora, Co. Clare to Shannon, Co. Clare
Saturday 1/12 - Shannon, Co. Clare
Sunday 1/13 - Dallas, TX
Monday 1/14 - Portland, OR

Ballyferriter, Co. Kerry to Camp, Co. Kerry
Sunday 12/30

Time to leave the Dingle Peninsula and the Suantra Cottages. We packed and loaded the car and removed all our garbage. We try and leave the places we stay in as good or better condition than when we came, so we spent some time cleaning up. We settled up for the electricity with Phil and said our goodbyes. Of course we took the long route back to Dingle. We made a stop once again at Cuminole North viewpoint and shot the panorama below. The light wasn't great, but we took a few more stills and then headed further down the road.


Dingle was pretty quiet on a Sunday morning and we drove through and kept going through town, past the Small Bridge bar and up the road towards Conor Pass. The road is scenic and winds slowly upward through green hills. Conor Pass is the highest pass in Ireland. This may not sound like much, but the road is narrow, there is often construction and large trucks. As you rise higher the mist and clouds get closer until you're engulfed in them. Up higher the wind picks up and can clear things up. It is always a gamble as to visibility. The wind wasn't as fierce this time around and you could actually stand upright, but it was cold. Sheep were clinging to a nearby hillside. I think the gorse acted like velcro with the wool and kept them from tumbling.



After a few pictures from both sides of the pass, we got back in the car, stowed our camera gear and headed off. The other side of the pass is actually a worse road and drive for the first half mile or so. The road narrows at one point to a single lane with large rocks poised above. Once you get past the waterfall (by it, not through it) the road improves and soon feels quite comfortable as you head down into a forested area. We had been this way many times but had not been able to explore as we were usually trying to get to another destination quickly. This time we'd made a reservation in Camp at the Camp Junction House B&B right across from Mike O'Neil's Railway Tavern. We'd stopped there each time through, but never had been there during the evening. The place a a great reputation for music and fun. All this gave us time to explore the immediate area. Along the way we saw in interesting ruined house decomposing slowly by the side of the road. We stopped for a few pictures. We headed out somewhere near Castlegregory and ran across the ubiquitous ruined church and graveyard in Killiney. Of course we had to stop. We spent about an hour poking around, looking at the headstones and taking pictures. The graveyard contains an obelisk memorial to the crew of the Port Yarrock, seven of which are buried in the graveyard. The Port Yarrock sunk in 1894 in Brandon Bay with all hands lost. The remains of the ship's bowsprit can still be seen a low spring tides.



We headed back towards Camp and as it was still early, passed through and headed further West looking for Killelton. We wandered a bit far afield and ended up on a remote road. Very scenic, but it tapered off to little more than a rocky path. We ran into an old gentleman in an equally old vehicle who assured us we were not on the right road, but couldn't tell us where Killelton was. We retraced our steps and hit the main road and headed further West. We had lunch at Bunawonder beach and watched a couple of kids with hurlys on the sand.


We resumed the search for Killelton and finally found the road. Killelton is an abandoned village along the Dingle Way. Evidently the road used to be well traveled, but as the route changed, the village died out. There is the remains of a monastic site in amazingly good shape and well kept and signed. The best place to park is on the main road and walk up the hill along the lane. At the top of the hill is a wood gate in the fence. Go through the gate and keep going. The path is pretty rough and goes over fences, streams and logs along the way. Eventually you'll start to see old stone buildings that are the remains of the village. There isn't a lot to see and the ruins are a bit unstable. While we were looking at one of the old ruins, apparently a inn or hotel from what we could gather, a farmer appeared out of nowhere and warned us to be careful as the walls could collapse. Nothing in the village is marked or signed and you have to guess what the buildings may have been. Most of the ruins are along the left side of the path, but a few are on the right. Most of these are very overgrown and hard to get to with little reward for the effort. Further down on your right is the entrance to the Killelton church. The walls of an oratory and some walls are about all that are left. Give yourself some time if you plan to go here. It is a good walk, but a little rustic and don't forget, you have to walk back. This is definitely a road less traveled but worth the effort.



We were now close to our check in time at Camp Junction House B&B. We drove up the winding driveway to a large house perched on a high spot with a great view. The parking lot is large and probably full in the tourist season. This time of year we were the only guests. We knocked on the door and it was answered shortly by John Doyle. We had a great time and excellent service from our host John Doyle, even though he was recovering from the flu. He invited us in, showed us around and offered tea. We spent some time chatting, turns out he and his brothers were football players for the Kerry team. He told us that there was music that night at the Railway Tavern. He wasn't up to going, but encouraged us to attend. We'd already planned to go, so this was good news. The Camp Junction B&B overlooks Mike O'Neil's Railway Tavern, the perfect place for a rollicking Irish evening of music and conversation so we didn't have far to go. We got our room situated and headed off to look for some dinner. This proved to be more of an effort than we'd anticipated and in hindsight we probably should have gone the other way on the road. Most of the small places were either closed or didn't serve food this time of year. We eventually found the unfortunately named Seven Hogs Restaurant. We were a little early for dinner, so we had a Guinness and waited for about 20 minutes. Eventually we were seated. The furniture is rustic wood, but sanded in the right spots and the place is nice. I went for the Whisky BBQ Ribs, hoping for a bit of wood smoke on the meat. No luck, the ribs were oven cooked. The meat was tender and well cooked, just a little bland without the benefit of wood smoke and caramelized sauce. The BBQ sauce wasn't bad, certainly better than many sauces I've tried at home. Karen had some fish and said it was good as well. We had a nice dinner and headed back down the road to the B&B to freshen up and then off to the Railway Tavern to say hi to Mike and settle in for the evening.

Things were already well underway and the crowd was shoulder to shoulder. We managed to find a seat and ordered a pint or two. We were joined later by a couple from Clare on vacation and had a good chat between sessions. Later we surrendered our seats and joined the standing crowd closer to the music. Karen eventually joined in for a song or two. The pictures didn't turn out well as the light was poor and I didn't want to use a flash. In addition it was all I could to to stand upright with the crowd and jostling. I didn't even think about raising the ISO setting. I had an interesting discussion about wine, women and song with a very inebriated local who mistook me for his best friend. Either that, or I was just the friend 0' the moment. He had an opinion about everything, but was incapable of expressing it clearly. It didn't stop him from trying. Eventually things slowed down and cleared out. Not as early as you'd think on a Sunday night though. Somewhere along in the evening I realized I was coming down with a sore throat but didn't let that stop anything. We headed out into the cold night air and back to our B&B.

TOP | BACK
Camp, Co. Kerry to Kilfenora, Co. Clare
Monday 12/31
We'd arranged to be up at a fairly early hour with John as we'd still a good drive ahead of us to Kilfenora in County Clare. He had a full Irish laid out and we tucked into one of the best breakfasts of the trip. After we chatted some more and settled up before repacking and loading the car. We said our goodbyes and promised to return for a visit in the future. We highly recommend the Camp Junction House B&B! This would be an excellent location for exploring this part of the peninsula and would keep you out of the tourist traffic. The beaches in the area are wonderful and obviously the music and pub activity are lively.

We were off, our route went through Tralee and to the Tarbert ferry where we'd cross from Kerry to Clare. We'd gone this route in the past and it bypassed the congestion around Limerick and saved time and distance. We encountered a house with many residual Christmas decorations and had to stop for a picture. It looked like the North Pole had exploded on their lawn. As we neared the ferry, the weather continued to get greyer and the clouds and mist were hanging very low. We stopped for a few pictures on the way. There is a wildlife/bird refuge along the road, but we didn't see much of either. Eventually we came around the corner to the ferry. We had arrived just as the ferry was leaving and had about a half an hour wait until the next one. We parked in line and I got out to explore the pier and surrounding area.
On the pier were a number of traps and one the pier was the refuse of countless fishing trips. Most of the boats were out and so was the tide. The pier was very slippery from the rain and the stone surface was almost polished from use. Skeletal fish heads, shells and other related debris added to the unstable footing. A number of small birds were foraging for fishy snacks. I walked, actually more slid down a ramp and managed to avoid a fall. There was no way I was getting back up that way. I walked out onto the rocks below the stone wall and found piles of small fine shells that had been washed up by years of tide activity. I rummaged through my camera bag and found a large zip lock bag. I always keep several as they make good emergency camera covers in the rain and you can put interesting items in them. The shells qualified and I filled the bag with several handfuls. The fish heads stayed put. The shells ranged in size of a quarter down to a pin head. There was a variety of sizes and colors. They traveled safely home and we put them in a Guinness pint glass on our dining room buffet. Our granddaughter like to look at them and when she's older we'll pour them out on some paper to examine more closely.
On the other side of the pier a truck and trailer pulled up an unloaded two horses. They were taking them for a swim along the pier and we watched as they walked along the pier while the horses swam alongside. We were told it was good exercise. The horses looked very well kept and seemed to enjoy the swim, but also seemed to be glad to be out of the cold water. Shortly after the ferry arrived and we got back in the car and drove aboard for the ride across to Co. Clare.


The drive to Kilfenora was uneventful. The weather continued to spit rain and be dark and cold. We traveled up towards Ennistymon where we needed to find a cash machine to pay for the cottage. This proved difficult, but eventually we found one after several failed attempts. They were either not working or closed. Out of Ennistymon we took the road to Kilfenora. We passed through a number of small towns and arrived in Kilfenora without incident. We resisted the urge to stop at Linnane's Pub for a pint, and took the side road down to Brook Cottage. The drive was fairly easy to find and proved to be a sharp left off a rising hill on a corner. The lane plunged down the hill to a small bridge over a small brook that circled around and behind the cottage. Very nice and scenic. There was a car parked in front and we pulled alongside. We knocked on the door and were welcomed in to the main room by our host and hostess and son. They had a peat fire going in the hearth and showed us around and got us situated.
Brook Cottage is fully modernized with a full kitchen, two bathrooms and two bedrooms. The living room area has a large fireplace and comfortable chairs and couch. The whole cottage is well appointed with antiques and Irish decorative touches. The rooms and beds are comfortable and have extra quilts and blankets. The cottage was so nice we arranged to extend our stay for an additional week and forego going in search of other accommodations further North. There is plenty to do and see in the area, especially if you like historical sites, ancient forts, stone walls, ring forts and dolmans. Linnane's pub in Kilfenora is our favorite hangout for food, drinks and activities although we had some good meals at Vaughan's. We recommend the Bacon and Cabbage at either pub. Note: Bacon isn't the crispy stuff that's called streaky bacon, think ham, only better.
We elected to stay in for the evening as I wasn't feeling good, still had the sore throat. We fixed dinner and watched a little bizarre British TV and then headed for bed. The bed was very comfortable and well stocked with blankets and quilts which we appreciated. The brook may have been picturesque, but at this time of year it made the little hollow the cottage is in cold and damp. The stone floors and walls may have something to do with it as well. Any other time of year, this shouldn't be an issue.

Book interlude
Here are some books we read, reread or discovered on our trip. We think you'll enjoy them too. They are all related to traveling, living and surviving in Ireland. They are best to read after you've been once. So much will make more sense.
TOP | BACK
Kilfenora, Co. Clare
Tuesday 1/1


Our first morning in Clare and a new year! We slept well and got up leisurely and fixed breakfast and sat looking out the sliding glass door towards the brook while we ate. A little cleanup and then headed off for some driving around the area. We headed toward Ennis with the intent of visiting Quin Friary. Whatever else we found on the way was a bonus. We passed through Ennistymon, hit the cash machine and then headed out of town. A short distance later we saw a stone bridge and took a side road to check it out. It really wasn't that exciting. The water was moving fast and had a yellowish cast. The surrounding area was a bit bare and even from a ways down stream it wasn't great. We did notice a car nearby perched on a a stone wall. Evidently a casualty of the night before. There was a very sharp corner that the driver failed to negotiate. The windshield was intact, but the rest of the car was doing poorly. We saw the car a day or so later on a flat bed truck.

We made rapid progress down to Quin, winding through some scenic country and some small towns and other less scenic and not so small towns. We passed through Quinn and drove a short way further to see if we could spot anything interesting. We did! We found Ballymarkahan Castle. It was visible from the road and through some trees. We drove down a lane until we reached a driveway to a house. We parked along the road and talked along the lane to the castle. We hopped over the fence and approached it through the field. We were trying to stay off the farm property, but found that there was easy access up the driveway. We took this route back. Ballymarkahan Castle has an interesting history that you can read here. The castle itself is in bad shape and looks like more parts could fall off at any time. Just the way we like them. As one wall and most of another was missing, you could see the inside and the remains of the floors. We didn't get to close and it held together while we walked around it. As we crossed the fence and onto the driveway, the farm dogs discovered us and ran to get acquainted. We had an escort back to the car and they were very disappointed to see us go.

Back in Quin we found parking along the road and walked out to the large ruins of the abbey. As we got closer we realized there were two sets of ruins. The closest was St. Finghan's Church and the one futher on, Quin Friary. St. Finghans was built between 1278 and 1285. According to tradition, the church was dedicated to St. Finghin, but by 1839, John O'Donovan was unable to discover which St. Finghin it commemorated or even which holy day had been kept in his honour. No part of the church appeared older than the fifteenth century to him. We wandered around St. Finghan's and couldn't find out either. There is a fairly substantial graveyard around the church. We took a few pictures and then walked down the path towards Quin Friary.

Quinn Friary was founded by the McNamaras in the 14th century. The cloisters were built in 1402 and remain one of the prominent features of the site. Unfortunately the place was locked tight and we could only peer through windows. The ruins are quite large and took some time to walk around. We were able to see bits and pieces of the cloisters, but not well. Evidently you can go up in the tower as well and there is a good view from there. Perhaps another time.



Walking back, we took a different route and passed a nice stone bridge over a river. The town was pretty quiet and we elected to leave it that way and headed back towards Kilfenora. We stopped in Ennis to find some place for lunch. The town was crowded and we skirted around the edge. We found a small takeaway called Yvonne's and got some hamburgers. We parked in a car park and found that Irish takeaway isn't any better than ours. We set off again with heartburn and indigestion. We picked up a bag of turf in Corofin at the same place we'd shopped in 2005. The price was about the same as well. We headed back to the cottage, freshened up a bit and went off to Linnane's for a pint and dinner.
TOP | BACK
Kilfenora, Co. Clare
Wednesday 1/2


Today's starting topic is crazy Irish roads and driving. I think the sign to the left pretty much says it all. A narrow, barely two lane road with no lighting and occasional road stripes. The sign reads Drive Safely 100 km/h. We had to turn around and go back to take a picture of this sign. Locals do travel at these speeds. I tried it once and quickly slowed to a much more reasonable speed as 100 felt like I was on the edge of control. Not to speak of what might happen when you come around a corner and find a tractor taking up both lanes. We managed to keep out of the way of those traveling at 100 km/h most of the time, and didn't wish to join their ranks. Speaking of joining their ranks, as we drove along we saw an interesting looking graveyard down a lane off the main road. We turned off and followed the road out to Clohanes Graveyard. Parts of it were interesting and parts were odd. Some of the crypts had been vandalized and headstone propped up to block the holes. One of the crypts was painted bright yellow. Maybe there was a paint sale? We wandered around a bit and then headed back to the car when it started to rain. Just outside of Doonbeg we stopped in a small store for snacks. The woman behind the counter told us to visit the Bridges of Ross if weather permitted. We had a nice chat and then we were off again with Club soda and biscuits.
We followed the coast road. There were a number of interesting spots that we stopped and took pictures and then hopped back in the car quickly to avoid the rain. A Fooagh Point there was a large island, block of stone or what ever it was perched in the surf (actually I think it is called a sea-stack). On top you could make out the remains of buildings. At one point this must have been connected to the mainland and that connection or bridge was worn away. The sides of the rock were to steep to make any transit off the island less than feasible.
Just a bit further down the road we saw a small white structure surrounded by a wall. Looked like a shrine or holy well, so off we went to see. Sure enough it was an unmarked holy well. Very desolate countryside, but it was well tended. We found out in a recent edition of Ireland of the Welcomes that it is Fooaugh Holy Well. We have not been able to find out much more about it.

Shortly after we came to a car park and view point. We bundled up and walked out in the wind, light rain and ocean spray to have a look around. There were some incredible rock formations and steep cliffs falling off down to jagged rocks and the surf below. We spent about an hour wandering around looking at the layered rock and strange landscape. Waterfalls ran off of sheer cliffs to the sea below, and the layered rocks were twisted and warped.


Nearby was the Ocean Rowers Memorial at Dunlicka Castle, Kilkee unveiled on March 22, 2003. It commemorates several teams of ocean rowers lost at sea. The memorial reads:
Memorial erected by Kilkee Civic Trust in honour of Ocean Rowers who were lost at sea.
David Johnstone and John Hoare rowing together West to East from Virginia Beach (USA) in 1966.
Kenneth Kerr rowing solo West to East from St. John's, Newfoundland (Canada) in 1980.
Andrew Wilson rowing solo West to East from St. John's, Newfoundland (Canada) in 1980.
Eugene Smurgis rowing East to West from London (England) in 1993.
Peter Bird rowing solo West to East from Nakhodka (Russia) in 1996.
Nenad Belic rowing West to East from Cape Cod (USA) in 2001 and whose boat "LUN" was recovered off this headland in November 2001.

"Pity the drowned in time of storm
for the sun comes
when the rain is gone."

Kilballyowen Graveyard is alongside the road right before you enter Kilballyowen. It has a number of interesting headstones and a ruined church.

We were in search of the Bridges of Ross. We didn't know what we were looking for specifically, but were told by a shopkeeper to go see them. We knew roughly where they were and sure enough we ran across a sign. There was a small car park, but no bridges. Actually there were three at one time, but two have collapsed and it is a good walk to the third. We didn't know what to look for, but just kept walking along the coastline and looking at the rocks and surf. This is a great location for just poking around if you like the ocean and sea watching. Eventually we ran across the bridge. I risked its collapse and went across to the other side. It seemed stable, I imagine it has a few good years left in it. All around there were smaller cutouts in the rock that the surf rushed through. Some geological info. Evidently this is a good area for bird watching at certain times of the year. A fanciful engraving of the site showing other bridges that existed at one time.

We completed the drive out to the Loop Head Lighthouse. It is walled off and the gate was closed. It isn't particularly picturesque, but there it is. It was a pretty short stop since we couldn't walk around or climb anything.



We wandered around the lower part of Loop Head. There are a number of small towns and roads leading off that were probably interesting. We saw a heron and some other interesting birds. At this point we were a little tired from the earlier activity and the weather had turned colder and wetter so our enthusiasm was not high. To truly explore this area it would be a good idea to stay a few days. We saw signs to Carrigaholt and Carrigaholt Castle and followed the road out to the castle. Take the R487 out to the coast and turn right and then left on the road out to the pier. There isn't a lot of parking room as the road is part of a industrial area and working pier. There is a good deal of fishing activity both commercial and sport. There is a large gateway in front of a field. The field was pretty messy, skirting the edge is the least muddy option. It is probably better in the summer depending on how long ago it last rained. The castle looks like it may be open for viewing inside, but was locked up when we visited. There are fairly large grounds with a tower in one corner of the wall that provides a good view if you climb up inside.



I'm not really sure how we got to St. Martin's Holy Well, although I think we found it on the map later. We were following some sign for a wildlife bird refuge near the Poulnasherry Bay estuary which we never really found, or if we did we were unimpressed. The weather was so bad that we probably couldn't do it justice anyway. Anyway, along the road we spotted the gate and pulled off the road to take a look. I'm not sure who St. Martin was, but we could only assume that he was the patron Saint of mugs or hot beverage drinking devices in general. There were a good collection of them adorning the front of the shrine. We particularly liked the one that said Hot Daddy. We'd pretty much exhausted our sense of adventure at this point and we headed back in the most direct route we could find to Kilfenora. It was a long drive in the rain and not much more eventful happened. We stopped in at Vaughan's in Kilfenora for some soup and a pint and called it a night early as I still had the sore throat and general achiness.

TOP | BACK
Kilfenora, Co. Clare
Thursday 1/3
Today we wanted to hang out a little closer to home while taking advantage of the good weather. An expedition into the heart of the Burren was in order. We took off after breakfast towards Ballyvaughan. After Lisdoonvarna there is a high point and then a drop down through winding curves known as Corkscrew Hill. There are nice viewpoints at the top in several spots. We parked alongside the road and walked out along the road to get some new perspectives. The road down can be a bit narrow and harrowing depending on who is coming up. No tour buses this time of year! We made it down safely and through the winding road through the trees. Eventually you hit a split in the road, going off in many directions. We took the road to the immediate left and headed back up hill as it said there was a woodworker's shop. We never found it. What we did find according to Tim Robinson's The Burren: A Two Inch Map of the Uplands of North-west Clare, were interesting historic sites.

Rathborney Church is just off a small gravel road on your right. There are actually two sites on the road prior to this site, but are more difficult to get to and recommended only if you like mud and cow muck (if you can tell the difference). The drive into this site was in good condition, well graveled and there is a small car park alongside. The church is from approximately A.D. 1500 with parts being conceivably older. The church appears to be sitting atop a rath or earthen ring fort. Thus the name "the rath of the burren". This isn't uncommon as one group of people would pick the best site in a area for a home and then another would come along and logically pick the same spot and build atop the remains of their predecessors. The window on the East side of the church is nicely carved as are some other elements of doors and windows. The grounds are quite large and fairly well kept with a number of graves with nice crosses. There is a wonderful view of the Burren in all directions.
Driving back down the road and on towards Ballyvaughan you see Newtown Castle off the road to the left. The castle was restored and now is the home of the exhibit center for the nearby Burren College of Art. There is also a confusing intersection that can take several minutes to decipher. Just keep going straight to get to Ballyvaughan.
We had no particular need to stop in Ballyvaughan. It is a nice small town, and we made a quick stop at a gift shop, but didn't find anything interesting. We retraced our steps through Ballyvaughan, around Black Head and down towards Doolin. Along the way we ran into some friendly donkeys and the ruins of Balinalackin Castle. The castle is sitting next to a hotel called Ballinalacken House. The castle was the home of the local O'Briens, and build around 1840. It looks good from a distance. Up close there are more modern additions that aren't so scenic.

We continued on into Ennistymon to get some cash from an ATM and to fuel up. We couldn't find an Internet cafe in Ennistymon and continued on into Ennis. We finally found a Internet cafe at the top end of town. It was a bit of a hike and as we didn't know where to go, we did some wandering. It gave us a good feel for the layout of the central part of Ennis. We did some money transferring, paid some bills, and read our email. This is a pretty good way to go as you don't have to tote a laptop around and look for wireless. Cost is usually about €1 an hour. By this time we were hungry and walked back down to Cruises Bar. We'd had a nice pint here in the past and thought we'd give them a go for lunch. We had soup and bread, creamy veg for Karen and seafood chowder for me. We decided to get some coffee to keep us going and found a small cafe down a side street that made a good cup. Back to the car and then off for one of our favorite spots, Kilmacduagh.



We drove up through Gort in Co. Galway on the main road and then back down to the Kilmacduagh Monastic site on a back road. It is said that in the Diocese of Kilmacduagh, no man will ever die from a lightning strike. One unlucky man was struck, but the strength of it made him fly into Co. Clare, where he then died. The sky was pretty clear and Co. Clare was a reasonable distance away, so we took our chances even though the tower is clearly the tallest thing around. We again acquired a temporary pet as a local Golden Retriever befriended us and guided us around the car park, but didn't accompany us into the site. The site is broken into three sections, down the road from the car park is one set of ruins, immediately next to the car park is another with the main area with the leaning round tower is across the field. We set out for the lower part and met a herd of muddy cows who were happy to munch proffered grass from our side of the fence. The sun was sinking fairly low and we didn't linger long down below as we wanted the good light in the graveyard. Back up at the car park we crossed the field and began to take a number of pictures with the Burren in the background and the sun silhouetting the ruins of the monastery and round tower. Past the main complex the ground dropped off and a lake or just a lot of standing water from the rain created a nice reflection of the setting sun. We stayed and took pictures until it was to dark to keep shooting without a tripod (and our fingers were numb). It was clear but very cold. We made our way back (carefully) across the graveyard and out onto the road and back to the car park.


We drove along the back roads t0wards Corofin. The Christmas lights were up along the bridge and in town. We stopped for a few pictures and then headed on to Kilfenora. Back in Kilfenora we tried Linnanes Pub, but it was closed (no one ever tells us anything). We saw a light in Nagles Pub across the street and thought we'd give it a try. Things were pretty quiet, one other fellow was drinking with purpose at the bar. We pulled up a stool and ordered a couple of pints. We chatted with the bartender but he seemed mostly interesting in asking us computer questions when he heard I had an IT background. He also was trying to figure out how to get the music off a CCR DVD onto a CD. We didn't find it as pleasant as Linnanes Pub, but maybe it was an off night. Back at home we had a homemade potato and chicken casserole and put our feet up in front of a peat fire for the evening.
TOP | BACK
Kilfenora, Co. Clare
Friday 1/4
We woke up to snow, both on the ground and falling. We'd risen fairly early as it was still dark. While we were getting breakfast ready I peaked out the curtain in front of the sliding glass door and was surprised to see the white ground. Karen didn't believe me until I drew the curtain and revealed the falling flakes on a good two to three inches of snow. It was pretty much gone by noon, but we got out and took some pictures and slogged into Kilfenora for some grocery items. We tried to see the cathedral in the snow, but it was locked up. We walked across the field to the high cross and took some pictures. We picked up some water and other small items and headed back to the cottage. It began to rain and hail with stiff winds on the way back. Probably not the best idea, but one can't always be sensible.


We decided to make a run into Corofin for more groceries and some turf as the roads were clear. We got out of the wet clothes, into dry ones and off we went again. We returned home and dropped off the groceries and headed out for some site seeing as the weather was now sunny. Typical Irish weather! Back on the road again and back towards Corofin. Our first stop was Coad Church just up the road from Kilnaboy Church. Just take the road near Kilnaboy and keep driving until you see Coad on the left. It is a small site with some nice views of the countryside, sheep and lots of gravestones. Allegedly Maura Rua of Lemaneagh Castle was buried in the Coad graveyard.


Kilnaboy Church or Kill Inghinębaoith is one of our favorites. I think because we originally happened on it unexpectedly. It is perched on a hill overlooking the road between Kilfenora and Corofin and Lake Inchiquin quite close to Corofin. We've visited every trip to the best of my knowledge. There really isn't a lot to see. The grounds are small and the graveyard is still in use. There is the sheila na gig over the door, always an object of interest. The stump of a round tower remains not far from the church and ivy covers just about everything. The round tower is said to have succumbed to an Cromwellian cannon assault. The rusted iron gate still screeches a protest as you enter. The church dates to about the 16th century with some repairs made around 1715. A good description made of the site in about 1910 by Thomas Johnson Westropp is here.



Following our map (Tim Robinson's The Burren: A Two Inch Map of the Uplands of North-west Clare
) and booklet we drove to Lemanagh Castle and then out onto the Burren in search of Templecronan Church. This was supposed to have some interesting carvings. We didn't really have the specifics, but there are not many roads in this area and we bravely sallied forth. We ended up at the end of a lane dead ending in a driveway of a house under construction. This obviously wasn't it. We made a u-turn and spotted a sign we'd missed before. Because the sign was lying on the ground, we had to guess at the actual direction is had been pointing in. We parked nearby and proceeded over a stone wall and across a field. There was a path that we followed until we came to another gate. The path appeared to go left instead of through the gate. Through the gate were a number of cows and not much else. We followed the path for about 10 minutes through some pretty rough ground and found nothing except more rocks. We retracted our steps and this time went through the gate. The cows looked at us curiously but made no moves to either run or attack. We passed within a few feet and found another faint path. We followed it out to a stone wall and in the distance we could see the remains of a church. This must be it! As we got closer we could see the blue and white signage that indicate a heritage site. Sure enough it was Templecronan Church. The grounds are surrounded by a low stone wall and the church is quite small. It is thought to be an early monastic site, probably pre 12th century. There are pre Romanesque carvings of heads projecting from the walls. Nearby are two tombs made of stone slabs propped against each other. We were struck by how quiet it was.
Since we were in the area we thought we'd pay a visit to the Poulnabroune Dolman. Last time we were in 2004 here the crowds were intense and rude. People were walking under the dolman in spite of it being roped off. With the cold and time of year, we were hoping for very little activity. The grounds had changed and there was a new car park instead of having to park along the road. There were also about 6 to 8 signs with historic information. There was only one other car in the park and we could see them heading back towards us. We took a quick look at the signage and headed out to the dolman. The sky was beginning to turn orange and purple as the sun was close to setting. We found some good angles that hid the rope barrier and the nearby buildings. The sun bounced off the limestone making it look wet. We took a lot of pictures as the light changed. Late afternoon is a good time to visit although the ground is a bit rough for navigation after dark. Don't stay out to long. We headed back when the visiblity began to get bad and got back to the car in one piece. We decided to call it a day and headed for Kilfenora and a dinner at the cottage.
TOP | BACK
Kilfenora, Co. Clare
Saturday 1/5

A relatively unexciting trip to Galway to do some shopping. This still isn't our favorite town. We keep trying, but it just hasn't worked for us. It was crowded, but it was Saturday. We visited a lot of the small shops, but didn't find a lot interesting and the prices were high. We had lunch in an interesting restaurant that was mostly working people on lunch break. The menu was heavily oriented to chips and other fried food. It was hearty fare and kept us going the rest of the day once we'd requested some clean, not food encrusted silverware and water glasses without lipstick.
We made a trip out to Spiddal because we do like this town. We tooks some pictures in the graveyard but gave Hughes Bar a miss this time out.
On the way back we stopped near Kinvara to take some pictures of Dunguaire Castle, but the weather was getting colder and we had intermittent rain so we didn't linger long. Back in Kilfenora we had a relaxing night in with dinner and some odd British telly.
TOP | BACK
Kilfenora, Co. Clare
Sunday 1/6
Karen had now acquired the sore throat and didn't feel up to anything except keeping warm and drinking hot tea and watching Irish TV. I took off for some more obscure sites that I'd found on Tim Robinson's The Burren: A Two Inch Map of the Uplands of North-west Clare
. Below are some links for purchasing this map. It ranges from €8-€15 and is worth every penny. You can also purchase it in the Burren area of Clare at many stores, but it helps to study it before going and chart out some routes.
Here is a great site for viewing the Burren Map and photos of major sites from the map. The perfect pair for the Burren map is Carleton Jones' excellent book, "The Burren And The Aran Islands: Exploring The Archaeology
"



The first intended stop was Kilmoon church located just out of Lisdoonvarna. It is signed from the main road, but is hard to see. The church is just a short distance down the side road. There is little parking, just a wide spot in the road. The grounds were very overgrown and walking was a bit treacherous with the tall grass obscuring the rough ground. There is a wide range of new and old stones and the church is small and in bad shape. There are nice views in all directions and the site stands on a small hill. There is a nice cross and a holy well across the field.



The next stop Killeany Church, is a bit harder to find and requires some walking. There could be an easier way, but according to the map you need to take a turn off the main road, go down a short distance, park along the road and walk through several fields along a path to the church. There are several gates along the way and you can either climb over or open the gate (be sure to close it securely behind you) and go through. There is a reason for the gates, they are to keep the cows and occasional bull contained. It is better to be on the other side of the fence of a territorial bull. The cows aren't small either. I believe there are three gates to navigate and then a path that turns abruptly to the right and across a small stream to the church. The ground gets progressively rougher, but isn't to bad to walk over. It is a good distance to walk. There is an iron gate to the entrance of the church grounds. The gate is a bit rusty and stiff, but this is the best way in. The rock wall is a bit rough to climb over.
Inside the wall, things were a bit overgrown, so watch your step. The church is much larger than Kilmoon church, but in pretty bad shape as well. There are good views in all directions with a clear view of the Burren. This is well worth the walk and the cow dodging. One the way back, a calf was watching me skeptically, but didn't seem overly concerned. As I rounded the corner after crossing the creek, a largish bull had wandered over and was standing just about where I intended to go. His back was to me so I circled wide and came around slowly so he could see me. I had some room to move in all directions in case he decided to get feisty. He just watched me curiously as I moved around him. I took a couple of pictures and he continued to watch me without concern. He seemed to be a young bull as the horns were short. He had the obligatory ring in his nose and all in all, seemed to be a nice fellow. I didn't push my luck, and headed over to the gate and slipped through. I've heard horror stories of people being chased across the field, but never had any problem. Most Irish bovines seem to be more scared of me than I am of them.


My next stop was Cahermacun Church and stone fort. It was a little distance away. Continuing on the main road towards Ballyvaughan, down Corkscrew Hill and then to a four way split in the road. Right before the split, there was a cow standing on the stone wall watching traffic go by. Turn left at the split and head back up the hill. There are several churches and other sites up this road including Glenaraha, Rathnaboy and then Cahermacun. We'd visited Rathborney Church earlier, but hadn't explored Cahermacun. There was a gate in front of the road so I parked outside and went through. The ground was very torn up by cows and tractors and I soon had mud up to mid calf. Good thing I had my trusty Columbia Sportswear
waterproof boots. They are comfortable and good in all sorts of terrain from the Burren rock to ankle deep mud (I think it was mud, with all the cows around you never know). This is a site for the very dedicated tourist. There was some old farm equipment rusting off to the side among the grass and weeds. The church was very overgrown and between the weeds and muck, I had a hard time getting over to the door. The cows had been hanging out inside as the ground was covered in hoof prints. No one was home and I slogged around. The inside is covered in ivy and while you can see the layout pretty well, there isn't a lot to see. There are separate rooms, possibly the living areas were part of the church or had been added or adapted over time. There appeared to be fireplaces with chimneys in some of the smaller rooms. I escaped without losing a boot and walked behind the church to firmer ground. There was a large circular raised area full of trees and bushes. It was the remains of a stone fort, maybe earthen walls, but maybe just a lot of dirt covered the remains of the rock. Caher means stone fort, where rath is usually an earthen fort. Rathbourney is built on a ring fort. I ducked through the trees and looked around, but apart from some large burrows into the bank, there was nothing to see. I slogged back to the car, trying to stay along the fence line where the cows hadn't torn up the ground.

The next stop was Corcomroe Abbey. I had to go through Ballyvaughan and then along the coastline up to Bell Harbor. Along the way I saw Bishopsquarter. Actually I'd noticed it as we'd gone by here on our way to Galway. It was a small graveyard sitting up on a hill alongside the road. There was a church and a larger crypt. I parked nearby and climbed the hill. There was a wonderful view along the coast and behind across the valley with the Burren in the distance. There were a number of interesting headstone with some crosses, nothing very old. The church had a nice doorway, but nothing exceptional inside. There is a nice beach across the road. The sky had started to darken as I walked up to the church and now the rain was starting to fall. I pulled up the hood on my (you guessed it) Columbia Sportswear waterproof jacket and headed back to the car.

Corcomroe Abbey was the next stop. Just up the road a little further to Bell Harbor and turn right. Pretty much the next left was marked to Corcomroe Abbey. In tourist season I imagine you could follow the tour buses as this is a major site. No buses today and the rain continued to come down with increasing force. I drove to Corcomroe and waiting in the car park until the rain slowed enough to take a look around. Everything was dripping from the downpour. Inside things were a bit more sheltered, but the light was poor. I did a quick look around for future reference and got back to the car before the next deluge. It rained pretty much all the way back to the cottage.

Back at the cottage Karen was still feeling sick, but a little better. We had soup and leftover chicken (see you can have leftovers even when traveling!). We showered and intended to go out to Linnanes Pub for an evening of music. There were to be three women fiddlers including Siobhan Peoples, who was Linnane's niece. Karen ran out of gas before we got out the door. We discussed my going alone and I decided to stay in and stay warm and dry. This would have been fun, but a lot less fun while sick and I still wasn't 100%. I built a fire and immediately the power went out. We pulled up the chairs close and toasted our toes by candle light. Shortly after the power came back on and we read and lounged until bedtime.

TOP | BACK
Kilfenora, Co. Clare
Monday 1/7


We decided today would be a shopping day. We'd pick up some groceries and try to finish up any gift shopping we had planned. The morning drive to Ennis was nice, but the weather changed to rain as we arrived. Ennis is the nearest large city to Kilfenora. Ennis has a number of interesting sites that we didn't visit this trip, but have in the past. The Ennis Friary is a very nice site located right in town at the end of Abbey Street, the main street close to the main car park. We found parking easily, (affordable at €3) and headed over to the bottom of Abbey Street near the Ennis Friary. There are a number of shops all along the street, some touristy and some local. The weather was cold with intermittent rain so we didn't spend much time on the street. We popped in and out of the shops, partially browsing and also looking for some specific items. We wanted some Irish language children's books for the forthcoming granddaughter, and found a good bookstore with quite a nice selection. It was warm and dry and we killed a good amount of time and a few Euros there. We picked up some scones at a bakery, and some coffee in another shop and had a snack while we walked. Throat lozenges proved a necessity as we were both still fighting sore throats and the wet weather wasn't helping.
Irish bank money transfers are a bigger production than at home. There were guards with automatic weapons. Maybe it was because it was Ulster Bank, but I don't think so as we've seen it elsewhere. I would imagine the guards in camo with automatic weapons are a good deterrent to anyone with nefarious thoughts. We found a small cafe for lunch and got a corner seat and had soup and sandwiches. The cafe was small and very warm with a lot of bodies crammed in along with the steam from the food. We visited the local Dunnes store and picked up a carrying bag that was quite sturdy and much cheaper than at home. It also has additional significance as we like The Dunnes Stores Girl
song by John Spillane. Visit him on MySpace and hear some music clips or buy his album Hey Dreamer
on Amazon.

We drove back to Kilfenora through Corofin. The weather had improved again and the light was good on the fields and stone walls. Back in Kilfenora we stopped in a Vaughan's for dinner as Linnane's was closed, probably from the lively night before. Karen had salmon and I had bacon and cabbage. Both were very nice and a seat by the coal stove and a pint rounded out the meal nicely.
TOP | BACK
Kilfenora, Co. Clare
Tuesday 1/8

Another morning dawned with some promise. The skies were blue and the trees around Brook Cottage were full of birds. Quite a racket they made altogether. By the time we'd got in the car to head towards Doolin, the clouds were rolling in and the sky was turning gray. By the time we reached Doolin, we were into full rain. We drove through Doolin and then out to the pier where we'd caught the ferry to Inis Oirr in 2005. The sea looked very choppy, restless and angry. Not a good day to be out on the ocean. We snapped a few pictures and then headed back towards Doolin. Along the road you could see water running off the cliffs while the waves pounded below. I used the zoom as I didn't want to tromp all the way across the field in the rain. I know this breaks my rule of the best zoom being your two feet.


We drove down the coast, past the Cliffs of Moher. We figured we could give it a miss this time around as the weather wasn't pleasant and the parking had increased. We had plenty of pictures from prior years. Further down the road, we waved as we went by Moher Lodge B&B, one of our favorite places to stay. Just down away and around the corner was St. Brigid's Well. The tall monument just across the way is your landmark to turn and park. The monument is to Cornelius O'Brien who developed the area and the Cliffs in particular. He developed pathways, stables and other amenities including a piper to roam around and play. Unfortunately the piper got drunk and went over the edge. St. Brigid's Well is another site we visit every time we come. It changes as new items are left and old ones taken away. It had been cleaned up pretty well and you could see the water better this trip. No fish or eels visible though. If you see one, your prayers are sure to be granted. Many of the statues were unchanged, but with additional accessories. This is an excellent site for photos as long as there are not any other visitors. The graveyard above the well also has some nice stones and is worth a visit.

The next stop was Lahinch to see if any shops were open. Along the way we spotted the Liscannor Stone & Rock Shop. We'd never visited although we passed it many times. It looked warm and dry and was open, all good things. Inside it was larger than it appeared. There were one or two other people wandering around through the huge selection of rock related objects from all over the world. We found some magazines and books from the area and ended up purchasing Carleton Jones' excellent book, "The Burren And The Aran Islands: Exploring The Archaeology
". This is the perfect book to accompany your wanderings in Clare as it explains why things are there as well as guiding you to new places. Read it before you visit Clare!
Lahinch is full of shops mostly related to surfing and gold, but most were not open this time of year. The ones that were had some good sales. We parked near the seawall and watched the waves crashing in. The sign warning not to swim seemed a bit ridiculous this time of year. You'd be turned into fish food in nothing flat out there. The rain started up again and we drove to the main street to explore the stores. We found some good deals on sweaters and books. I picked up an Irish wool hat in another for a good price (it has since gone missing). We fancied a bit of lunch about this time and found an open restaurant, The Cornerstone. Prices are a bit high for lunch, even this time of year, but the food was good. I recommend the fish and chips. When we got back into the car it was hard to hold on to the car door because of the wind. We stopped at the corner store on the way out of town for Sudafed.

We had picked up a nice booklet in the Kilfenora store that we frequented that had pictures and descriptions of many of the churches in the area. We wanted to visit Kilshanny church as the photos and description looked interesting Kilshanny is a small town just out of Ennistymon that is right off the main road to Kilfenora. The town has a single pub and not much else. We found Kilshanny church down a side road near a farm (what isn't near a farm in Ireland?). The church is recognizable from the bush growing near the top of the front wall. The weather was still quite windy, but the rain had died down and we parked and went over the wall. There are some interesting carvings on the walls of Kilshanny and I think we found most of them. There were not that many walls. We decided to leave when our fingers started getting numb. St.Augustine's Holy Well is somewhere nearby, but we gave that a miss this time in favor of staying warm and dry.
TOP | BACK
Kilfenora, Co. Clare
Wednesday 1/9


We started by heading into Corofin for a stop at the chemists for still ailing bodies. Along the way, just before Corofin, we spotted something nailed to a tree and below what appeared to be a Holy Well. It was. Just off the road is a low stone wall with an entrance. The ground is a bit messy with some miscellaneous pieces of plastic and other bits that may have blown in. I took a few pictures and didn't find any sign saying who's well it was. Later we found that is is St. Fleming's Holy Well and is good for eyes. Good to know but at the moment we were more interesting in the well for colds and internal ailments. Here is a 360 view of the Holly Well. Near the well was a field with a mix of horses and donkeys. There was a cute baby donkey that seemed inclined to come visit, but the others didn't think it was a good idea. In another field was a lot of dirty cows that were curious about our antics as we slogged through some thick mud and grass to get to the wall separating them. A short distance down the road we spotted a car on a truck. It looked familiar. On closer examination it proved to be the car we'd seen wrecked near a stone bridge in Ennistymon on New Years day.
In Corofin we located the chemist and got a few things to soothe aches, pains, sore throats and other maladies. Across the street on the front of the Angler's Rest as a great Guinness sign that demanded a picture. We got back in the car and headed out in search of Rath Church.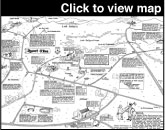 Here is a good site for historic sites in Clare. It is the Clare Archeological Trail. There is a map (shown at left) that is pretty accurate and helps you get around. We were unknowingly following this trail. If we'd had the map, we could have seen a few more sites along the way. Rath church was another entry in our booklet that we wanted to see. It was fairly easy to find from the good directions in the book and our Burren Map. The church has a small car park with a sign marking the church. There is a stone wall surrounding the grounds. There church has a number of interesting stones in the cemetery and an interesting carving of a sheela-na-gig surrounded by biting animals. Down the hill in the distance is Rath Castle, not much more than a ivy covered wall or two in front of the loch.
Leaving the Rath church site, there is a good view of Dysert Castle in the distance to the South and back the way we came, the road snaked off in the distance. Just find a wide spot in the road and pull over.
Our next planned stop was Dysert O'Dea, but as we came around a bend in the road we saw a flash of red in the trees and pulled over to investigate. What we'd found, even though we didn't know it at the time was Synge Lodge. It is the remains of a 19th century brick house. Over a couple of the exterior doors are family crests. From the site you can see Dysert Castle and a bit of Dysert O'Dea through the trees. There isn't a lot more than crumbling walls and roof tiles. Getting to it requires slogging across a field which was quite muddy, but bull free.



Dysert O'Dea is probably best known for the arched doorway, but has other interesting headstones and crosses nearby. The rain was still holding off, so we found parking along the road and walked through the gate and up the gravel path to the site. The arched doorway catches your eye almost immediately. The finely carved heads, each different takes some time to examine. Inside the church is the usual stones along with bones of some kind littering the ground. We didn't see any signs of excavation, so maybe they were dropped by a bird. There were quite a few. There is a round tower or what's left of it on the back side of the church and you can see Synge Lodge through the trees. Across the field is the 12th century high cross. You can either hop the wall and walk out to it, or drive around by the Dysert Castle and see it there. Along the fence line there were a number of small birds in the trees. Maybe they thought we were bringing lunch. We disappointed them.




Leaving Dysert O'Dea, we wandered over to the castle, but it was closed. Just like last time. We spent some time wandering on back roads just to see what would turn up. We found an interesting mailbox set in a stone wall. Further along we came to a dead end and as we were turning around, heard barking. All we could see was a black and white dog head appearing at intervals above the stone wall. We were invading his territory and he was making his feelings known. He seemed to be somewhat apologetic about the barking, as if to say "sorry folks, just doing my job, I'd really like you to come over and visit".



As we wandered we realized we were in the vicinity of St. Flannan's Holy Well. We'd visited this last time around and had to get directions. After some driving, we realized we'd need directions again. We flagged a passing car and we told which road to take. Sure enough, there is was, sporting a new sign and a nicely graveled drive. Last time around we'd taken a muddy path through weeds and mud to get to the well. This time there was a new gravel path with wood posts guiding you to the site. We picked up a couple of doggy friends once again. They seem to know dog people. One was the grown puppy from last time, no lest flea ridden and a new friend who herded us up the path. We came to a new gate and let ourselves through and came to the familiar battered second gate, painted in blue. Pretty much everything is blue, either the plastic bottles or recycled appliances are either blue or white. There were more decorations and as you walked around the large looped path, there was even more icons and decorations than before. The grounds were nicely kept. This is a must see if you're interested in holy wells.
After all this slogging around in cold, rainy weather, we needed some hot food. Biddy Early's was just down the road (click the link to learn more about Biddy Early). We'd visited here before. As far as I know it is Ireland's only microbrew, certainly the only one close to St. Flannan's Holy Well. Biddy Early Brewery and Pub is located in Inagh about 10 miles from Ennis as you head for Lahinch or the Cliffs of Moher and well worth a stop. We'd sampled their food and beer in 2005. Unfortunately this trip we caught them between batches, so it was Guinness and hot tea. Karen had a bowl of veg soup and brown bread while I went for the Shepherd's pie with enough veg on the side to keep a horse alive for a week. A big plate of Shepherd's pie, same size of potatoes and another of carrots. We got warmed up while we had a good chat with the bartender.
Outside the rain had picked up and as it was late in the afternoon we headed back to Kilfenora. In town we picked up another bag of peat and some fire starters. Peat burns well, but fire starters get it going quickly and create less mess than wadded up newspaper. As we usually had a good draft coming down the chimney because of wind, ashes tended to fly about if they built up. We also had quite a few stray hailstones bouncing across the floor at different times. Not a big deal since the floor was stone, but it surprised us the first time it happened. We stayed in for the night to keep warm, and skipped dinner as the big lunch was still with us.

TOP | BACK
Kilfenora, Co. Clare
Thursday 1/10


We got up a little earlier and had some breakfast and then took off for Noughaval. The sun was just coming up and the high clouds were breaking up and letting the morning sun dry some of the rain from the night before. We stopped at several points along the road to take pictures of the rolling hills crossed by stone walls. Noughaval is a market town and was once a much large town with a thriving community. The name means new acquisition, although nothing around looked new. The church is located centrally in the town. There is a market stone near the entrance, or more probably the remains of a market stone. The church is in pretty decent shape with a number of interesting stone constructions. There is the usual mix of old and new headstones. The countryside surrounding the church is worth attention as well as the church. There are many photo opportunities along the rock wall surrounding the grounds. Here is a 360 view near the church.



We continued along the road looking for Kilcorney Church. Along the way numerous sheep posed on the hillsides and cows eyed us over stone walls. We stopped several times for pictures. This roads requires slow driving as it is narrow and winding, but the views make it worthwhile. Kilcorney Church is on the right side of the road and comes up suddenly. It is a small 10-11th century parish church with some interesting features on the grounds. Inside the church is a small stone font. On the ground outside the church is piece of a carved stone window arch. In the hills behind the grounds are the Wild Horse Caves. This cave has several potholes and floods periodically spilling water into the valley below. This cave was famous in the eighteenth century for throwing out floods of water full of fish, and this is remembered traditionally, although the floods have been rare and insignificant since 1833.Wild horses are said to come out of the cave and their descendents live in the valley below.
We drove further across the Burren heading for Ballyvaughan. We made several stops for photos as the mood and scenery struck us. We passed through Ballyvaughan and along the coast road towards Kinvara.

Further along we saw the short lane out to Fanore Beach and since the weather was nice, took off towards the water. The sand was a gold color and the tide was out, revealing many interesting seaweed covered rocks. We acquired another short term dog that insisted on accompanying us around. He/she would retrieve anything thrown from a stick to a rock. There was some interesting art at the car park. It looked like all the flotsam and jetsam that had washed ashore affixed to a piece of plywood. It was interesting in a trashy sort of way. There have been sightings of a Fungi knockoff in the bay.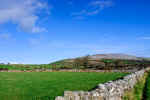 At Bells Harbor Quay a rainbow caught our attention and we pulled into the car park to take more pictures. We took the road to the right towards Corcomroe Abbey and followed the signs. The day was significantly better than when I'd made a visit a few days before. The sun was shining and we made several stops along the stone wall lined road to take pictures of the walls and Burren in the distance. The road dead ended into the carcar park of Corcomroe Abbey. The usual blue and white sign told us about the site. The sun perfectly illuminated the interior carvings and arched doorways and windows. There was some restoration going on at the back of the abbey, but we avoided that area and focused on the interior and the landscape around the site. Karen had a good time photographing the faces and figures on the columns and graves along the walls.


We backtracked to Bells Harbor and then up the road to Kinvara. We were hoping for a good lunch spot and better weather to see the castle and town. Lunch was our first focus. We stopped in a likely looking restaurant which was deserted, once we saw the prices we deserted too. Down along the quay we found a small cafe and Internet access. Karen did some bank work while I wandered along the quayside and took pictures of the boats and castle in the distance. Once Karen was done we had a nice lunch of sandwiches in the cafe and then went to take pictures of Dunguaire Castle.


We took the return drive back through Ballyvaughan and then around Black Head and down the coast towards Doolin. Along the way the sun lit up the rock and turned the brown grass golden against a blue sky full of puffy white clouds. We stopped several times along the way when rock formations or the scattered erratics made a unusually striking composition.


Further down the road heads inland and along the right side there is a beautiful view of green fields with the Burren in the background. The landscape was dotted with sheep sharply contrasting the deep green of the field. We pulled over at a convenient wide spot in the road and shot a series of panoramas as well as individual photos of the landscape. The setting sun was tinting the clouds with purple and the Burren was glowing a golden red. Further down the road was Ballynalacken Castle and Hotel. This looks a lot better from a distance than up close, but good photo locations are difficult on the winding road.

Back in Kilfenora we walked out to the West high cross in the field and took more pictures of it against the setting sun and deep blue purple sky. Then we called it a day and headed back to the cottage for dinner and a rest.

TOP | BACK
Kilfenora, Co. Clare
Friday 1/11
Off to a day of adventure, but first a stop in Ennistymon for cashing in all the spare change. We'd accumulated a lot and it filled up a good size zip lock bag. (These are handy to have as you'll find in our travel tips) Once cashed in and several pounds lighter, we went in search of the waterfalls that we'd heard about. It was still fairly early and the sun was hiding behind high clouds. The river Inagh runs through town and there is a Falls Hotel which leads one to believe there must be some falls. Sure enough, down a road off the main street we found some parking (probably illegally, but hard to tell). There were the falls complete with a trail alongside with viewing points. There was a lot of spray coming off the water and the sun still hadn't risen high enough to shed much light on the area. I walked out quite a way down the trail with had a wooden viewing platform and then went down towards the water. On a sunny day (like this day a few hours later) it would make for some great pictures. We took what we could and then back to the car to go exploring. We were feeling a bit better from the colds and wanted to stretch our legs while we could.

On the way out of town, heading back toward Corofin we saw a little house/stable along a stone wall in a field that we'd seen on our first trip through the area. This time of year the grass was much greener and I hopped out of the car for a lot of pictures. It was a bit risky as there wasn't a parking place so we just pulled off and turned on the flashers. I was standing in the road most of the time and watching/listening for oncoming cars while trying to get good angles. I survived, but had to make a run for it as a large truck was coming towards us and the only safe place was in the car. Back on the road we went through Corofin, our home base in 2005 and then toward Kilnaboy on R476. Just after Kilnaboy at Leana should be the next right) is a road that heads up Roughan Hill. Roughan Hill is probably one of the first settled Neolithic sites in the area. It is littered with dolmans, wedge tombs and other remains of Neolithic settlements. In many areas you can see low grass covered ridges snaking across fields. These are the remains of Neolithic stone walls that have collapsed or been covered up by years of growth. Some of the sites are marked, some you can see from the road and some you have to find using a map like Tim Robinson's The Burren: A Two Inch Map of the Uplands of North-west Clare
. Actually this is probably the only map unless you use Carleton Jones' excellent book, "The Burren And The Aran Islands: Exploring The Archaeology
" and follow the coordinates given there on a topographic map. The sun had come out in force and the interior of the car was deceptively warm. Outside it was still pretty brisk with a cold breeze playing over the hillside.



Our first stop was the Parnabinnia Wedge Tomb. It was easier to spot as there was a sign and it was visible from the road. There is a wide spot in the road near the sign and we pulled into it. We grabbed the camera gear and zipped up our jackets and went over to the rock wall. There isn't easy access over a lot of the walls so you need to climb over carefully without damaging any sensitive bits, or figure a way around. In some cases we found it easier to disassemble part of the wall. Walk through and then reassemble it on the return trip. The stones are pretty rough and precariously balanced so climbing on them can be dangerous. Once over the wall, you are faced by a field of grass and stone with many dips and holes. It is pretty rough walking and we were glad for our boots. The stone of the Burren can be slippery when wet and is often balanced on other rocks. All this to say that solid footing is difficult and it is slow going in spots. The wedge tomb is fairly large and certainly more than one person could put together. These were probably both boundary markers for a tribe as well as a burial site. If you sufficient brains and brawn to assemble a wedge tomb, you were probably a tribe to be reckoned with. We noticed a large boulder nearby and had seen some others along the way. These are erratics, often rounded boulders dropped by glaciers and are strewn around the landscape like a giant child's dropped marbles. We walked out to the one across the road from the wedge tomb and were rewarded with a sweeping view across the Burren not visible from the road. We shared the view with a few cows and many cow pies. Here is a 360 view near the tomb.

The next stop was another sign reading Leaba Wedge Tomb. This one is a longer walk across a field, through a ring of stone, perhaps the remains of a settlement to the wedge tomb further on. Again this is rough walking and a sprained ankle would be an easy thing to acquire. We also spotted some standing stones nearby or perhaps parts of another tomb. Again the scenery around is both bleak and beautiful. Much of the top soil has worn away after years of farming, wind and rain, but this was a very fertile area at one time and seems to be good grazing still. We had some fun when we found a large rock slab that tilted as you stood on it and had an impromptu teeter totter moment.

Further down the road we ran into a string of cows walking along the road towards us. We stopped and took some pictures, moved forward and took the next ones picture and so on. They stopped and looked at us. Each one was a different color and they seemed to be mildly amazed to see people out on the road at this time of year and hour. We were probably a bit wind blown and odd looking as well. As we drove along there was the occasional farm, but they were few and far between. We saw a few other things that could have been tombs or Neolithic stuff, but nothing sufficient to make us leave the car. Some of the sites are either a hole in the ground or a small pile of stones. Interesting enough to an archaeologist, but not enough to make us brave the cold.



We were now looking for a sign to Cahercommaun, a large triple walled ring fort perched on the edge of a cliff. According to the map it was just ahead and a short walk off the road. We found a sign directing us towards a trail and we parked nearby. There is a house right at the sign and a large monument sign with some information about the site. According to the sign the site was around a mile or less down the trail. We threw some water in the pack, locked up, zipped up and off we went. The trail winds along a field and then down through some scrubby trees and brush. Eventually the trail winds out into the base of a hill and stairs take you up to the top. The trail is a nice graveled surface and well maintained, but at this point we felt that it exceeded the estimated distance. Often in Ireland the distance are underestimated so as to seemingly not discourage the intrepid traveler. It is a nice walk particularly if you visualize Neolithic folks walking the same route to the imposing fort at the top. Yet the fort isn't at the top, at least not yet. When you get to the top there is a large field. If you walk to the left, you can go to the edge of the hill and look out across the Burren and see the paved road in the distance.
Where you actually need to be is to the right, over a stone wall and across another field. The surface is the same rock strewn, slippery, hole ridden surface that we'd encountered before. There is a trail but it vanishes at point and then reappears like Brigadoon, only in shorter intervals. There are some interesting bits along the way that look like ruined small buildings, fire pits and other holes with stones. In the distance you can see the stone walls of the ring fort. Keep going in that direction and watch your step, it gets better and worse. As you arrive at the ring fort, there is a walkway built around the outer wall. This is a fairly recent addition and certainly not original to the site as it deters from the point of a fort if you provide a comfortable raised walkway along the perimeter. We took advantage of the walkway, which was a bit slick from the condensation and chilly air. Still it was much better than

slogging through grass and finding unexpected holes. The remains of the walls are enveloped in long grass, perhaps at other times of the year this is trimmed back, but it made the site look old and abandoned. We walked around the boardwalk to the entrance on the far side. There is a platform overlooking the inner rinds. This also was very slippery. We decided to get off the beaten path and over the walls and go into the inner ring. This area is even more overgrown, but you can see where there were small huts and openings in the wall. During excavations in the past, some nice artifacts have been unearthed. We didn't see any gold or jewelry laying out, so we clambered out of the center and Karen went back to the boardwalk and I climbed up on the wall to look down the cliff wall. There is a pretty significant drop. No one would be sneaking up that side to attack the fort. I walked around the perimeter of the inner wall and then hopped down to examine the middle area. There wasn't a lot to see, but this is a pretty good size enclosure and took someone a lot of time to pile up the stones. Not that there are a lack of them in the area still. I believe some Irishman way back stacked the first stone on another, it became a national compulsion and they've been doing it ever since.
| | |
| --- | --- |
| | |
| Arial sketch of Cahercommaun | Arial photo of Cahercommaun |
We headed back toward the trail or what we hoped was the trail. We'd been up here for over two hours, but had not seen another person. At one time this was a thriving community, perhaps the center of life in the area, but now it was just ruins with nothing but the sound of the wind. Kind of sobering when you think of all the "stuff" we've built and how it will be in a few hundred or so years. We were a bit foot sore and wind blown by now and still had a long walk back. We'd also worked up a bit of an appetite and we interested in looking for food as nothing remained from Neolithic times in the way of a cafe or pub.

Back at the car we consulted the map and decided to continue North along the road through the Burren. Just a short distance down the road there was a nice view of Cahercommaun perched on the cliff edge. All along the way were stone wall snaking along a landscape dominated with slabs of limestone. We eventually landed in Castletown and charted our next course for new and unexplored areas of the Burren by taking a right towards Fahee and Glencolumbkille South.



Our next destination was Tobar Columchille or Columchille's Holy Well and Stone Cross. We had pretty good directions and arrived without problem at a intersection and parked just a bit North. A small road led back along a field to a small grove of trees. In the grove was a small stream emptying into a pond. At the far side of the pond was a stone cross marking the well. This well is supposed to be beneficial to eyes and feet. As the weather was sunny, but quite chilly, we weren't tempted to dip our aching feet or eyes. The well is beautifully situated amongst the trees and the light was warm and glowing on the green and gold of the foliage and hills above. The ground was quite wet from the stream, and you have to watch your step or risk wet toes. Once again the Columbia Sportswear waterproof boots
paid off. Here is a 360 view of the Holy Well near the Stone Cross. Glencolumbcille Castle is just up the road, but either we didn't notice it or go far enough up the road. It is good to know there is still much more to see someday. this is the kind of exploring we love the most, wandering, trying to find stuff, stumbling across new things not on the map and in general, just tromping around on a sunny day in Ireland.


Leaving Tobar Columchille we went in search of St. Colm Cille's Church. As you can see by now there are a variety of spellings of Colum Cille. Essentially it is St. Colum and Cille, Kil or Kille is church in Gaelic. St. Colmcille (meaning Dove of the Church) also known as St. Columba got around and traveled all over Ireland, eventually ending up in Scotland on the Island of Iona. I am primarily using the spellings that are on Tim Robinson's The Burren: A Two Inch Map of the Uplands of North-west Clare
as that was our primary reference. We drove a short distance up the road we were on and turned around and went back to the intersection. We then turned left to continue on the original road we arrived on. St. Colm Cille's Church is a short distance down the road at a gate into a field. There are the remains of a cross just inside the gate that you may be able to see from the road. We parked in the nearest wide spot in the road and went through the gate, closing it behind us. After a quick look around the field for unruly cattle (we still have never had a problem despite dire warnings) we examined the cross. There isn't much left except the main shaft, the cross pieces being broken off long ago. Somewhere around this area is a stone with the mark of St. Colmcille's fingers. We didn't manage to locate that. I believe it is futher down the road. We walked across the field to the enclosed raised area in the middle of the field. The grass was long, but the ground was fairly smooth and not difficult to walk on. Across the field to the right, the Burren dominates the skyline. A small gate leads into the church and graveyard. Not much remains of the church unless the outer wall is part of the original building. There are the usual variety of old and new headstones. The primary interest are the views of the Burren and surrounding countryside. Here is a 360 view from St. Colm Cille's church.

Leaving St. Colm Cille's Church we continued along the road towards Mullaghmore. The area has many gates leading to grassy fields and we spotted both cows and horses grazing. Again, it hardly felt like January except for the air temperature. Along the way we saw both signs and map entries for Penitential Stations. We found them, basically a long road leading up a hill. Evidently there are stone cairns marking the stations of the cross along the way. We were a bit tired at this point and the temperature was dropping so we elected not to make the walk this time.


Further down the road we neared Mullaghmore. This areas has views of the Burren and Mullaghmore Mountain against lakes, green fields and stone walls. The time of day was late afternoon and the sun was turning the brown vegetation golden and casting a warm light on the limestone. We really need to spend more time in this area as it is more remote and very beautiful. There are walks around the Burren and the Father Ted house is in the area. There is a Mullaghmore Walking Experience Center that we'll have to look into more.



The road eventually led us back into Corofin. We headed back up towards Kilfenora looking for the Tau Cross site along the way. The Tau Cross also known as the Crois Inneenboy, is a t shaped cross of which there are only two in Ireland. A face is carved on either end of the solid piece of limestone. Evidently this design was more common on croziers of the period. The one we were looking for is alongside the road near Lemanagh Castle. There is a short pathway out to the cross, which is a replica. The original is in the Kilfenora Heritage Centre. The cross it interesting, but the view from it's location is the real draw. It is located on a high point and offers a sweeping vista across green fields. We hurried back to the car as the air temperature was dropping with the sun. Back in the car we drove onward toward Lemanagh Castle and made a stop as a nice view of the castle appeared along the roadway. Again risking life and limb, I pulled over as far as I could and stood in the road taking pictures of the castle glowing in the setting sun. Having avoided becoming roadkill, we headed back to Kilfenora to get some dinner and take a nap before the community night in Linnane's pub kicked off about 10PM.


A wild community night in Linnane's pub in Kilfenora kicked off with our arrival in a mostly deserted pub. We were not deterred as we'd learned that Irish events rarely start on time. We pulled up a stool at the bar and chatted with the girl serving us. She was in to provide assistance for what was believed to be a busy night. Linnane had gone home for a quick rest and would be back soon. The other end of the bar was held up by four characters that were a interesting assortment of regulars. Each was in a different stage of intoxication ranging from boisterous to hanging on to the bar for dear life. Each was talking and occasionally their words crossed paths into a comprehensible discussion. Topics ranged from the economy to the words to the Davy Crockett TV show theme. They were obviously trying to draw us into the conversation, but we were having a hard time understanding them and talking politics with a drunken Irishman didn't seem to be a good start to a community evening. Our girl behind the bar just shook her head and made a comment about desperate men. Eventually Linnane returned, a peat fire was lit, and the pub filled up with an assortment of people of all ages. Drinks made their rapid way to hands and down throats and eventually someone broke into song. A semi quiet hush descended and then applause broke out at the conclusion. Stories were told, songs were sung and the Guinness and Jameson flowed like water. Somewhere in the course of the evening we were reacquainted with people we'd met in 2005. Of course they remembered us, or so they said and we had a chat about the wedding that had taken place (we'd been invited), the old guy we'd met in 2002 and many other topics that don't come to mind now. Along the way the locals realized we were there and took to buying us drinks. Karen declined but said that I'd be happy to accept. It seemed every time I looked away or went to visit the bathroom, my pint was full and as often as not is was kept company by a warming shot of Jameson. I had been alternating between Bulmers and Guinness, but now it seemed the my future involved only the black stuff. I sipped slowly, but that didn't help as more drinks appeared next to the half empty ones. Bar snacks began to make their way around and I desperately grabbed whatever came by to provide some ballast for an empty stomach. Fried chicken bits were first, followed by cheese sandwiches cut in quarters, then sausage rolls and perhaps mozzarella sticks. These helped stopped the runaway train, but eventually the long day, myriad of drinks, and the warm confines of the pub took their toll. Things were winding down anyway and we took the opportunity to say our goodbyes, thank yous and escape into the cold night air. The air helped clear my head, but I don't remember much of the drive back to the cottage. I imagine the locals back in the pub high fiving each other and saying "there's another American down". Bed seemed like a good idea as it was about 1AM and we had a busy day packing and heading out to Shannon.

TOP | BACK
Kilfenora, Co. Clare
Saturday 1/12
Time to head out of Kilfenora and prepare for the trek back home. We packed up with little excitement other than my stomach rejecting the rather dubious contents from the night before. I wasn't really sick or hungover, just wanting to be rid of a gallon or so of now sour Guinness and Bulmers mixed with chicken fingers, cheese sarnies, sausage rolls and Jameson. Once unencumbered I set to packing the car with a bit more gusto. We'd paid up the day before and once we'd given the place a good cleaning, we made the drive up the hill and out through Kilfenora. The town was also recovering from the night before and very little was stirring. We waved goodbye to anyone who was watching and took the road to Ennis.

Along the way we couldn't resist a final foray to a graveyard. We'd passed Inagh and spotted one right before Ennis on the N85 on a steep slope of a hill. We did a quick u-turn an went back to the nearest side road which fortunately, led right to it. This was Kilnamona graveyard. Kilnamona means something like Church of the Marshy Field or Bog. As it was on a hillside, we were spared the bog slogging. There wasn't a lot to see except the remains of a chapel wall and mostly newer headstones. The grey sky started spitting rain and a cold wind came up. It pretty much fit with our feeling about leaving. We managed a few pictures before our fingers and toes started getting numb, and headed back to the car. Back on the N85 we made our way into Ennis city center.

We picked up a few bits and bobs to round out any last minute shopping. It was still early so Ennis was pretty quiet and other than a cat in front of the deli by the car park, not much was happening. We kept hoping for some off season deals, but nothing was leaping out at us. We checked our list of people and made a few final purchases and headed off towards the Shannon Airport and some last night accommodations. We did a bit of driving around the area both to establish our route to the airport in the morning and to get the lay of the land. Most of the area seemed to be newer housing in a kind of sprawling patchy development style.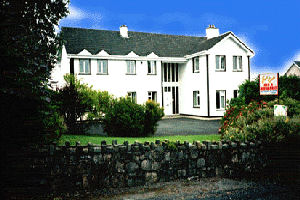 Fort Lach B&B was a lucky find in Drumline near the Shannon Airport. This would be a good stop either on arrival or before departure, or as a central area to explore the Clare area. We had not prearranged a place and did a walkup to the door. Fortunately they had a room and were accommodating to our dragging in all the bags for rearranging and repacking. There are many options for food in the area and we found Newmarket-On-Fergus to be the best option for shopping and restaurants. We drove into Newmarket-On-Fergus and had dinner at The Weavers Inn. It looked like a traditional Irish pub with a large fireplace. Strangely enough, it specialized in Indonesian food which was quite good. Karen had a final Guinness, but I stuck to Orange Club as I had not recovered to the violence done to my stomach by Linnane's the night before.

TOP | BACK
Shannon, Co. Clare to Dallas, TX
Sunday 1/13
In the morning our hosts were friendly and the breakfast excellent. A final full Irish. We made it to the airport, returned the car and got on the plane without incident, but with the usual regrets at leaving Ireland. Shannon is a much nicer airport to fly out of than Dublin. More modern at the least. Sometimes old stuff isn't all that charming.
We had a reasonably nice flight, but as we approached Chicago it was apparent the weather wasn't good. No problem getting into Chicago, but getting out took awhile and put us behind schedule with an already tight connection in Dallas.
Dallas was a painful excursion with an unintentional extended stay. We spent a long time sitting on the tarmac while we watched the time tick away. When we got off the plane we made a mad dash for the connecting flight. Unfortunately, it was about as far across the airport as possible, and we arrived at the desk to find the gate closed. No luck trying to talk our way on. Seems to me that they should have known we were connecting and could have held the gate for a few minutes longer. There were quite a few people who missed the flight. We were told that we'd be provided accommodations for the night, we should go down to the taxi area, and a van would pick us up. 45 minutes later, no van. It was late in the evening and we were tired and losing patience. After a few phone calls back to the desk, I got the number of the hotel. We were told the driver was on the way. Still nothing and more calls were made. About 2 hours later the van arrived with a surly young man behind the wheel. About seven people piled in and we were taken on a very long ride to a remote hotel. Along the way we hit every pothole possible on both sides of the road. Several people communicated their dissatisfaction to the desk help with no particular luck, so we didn't bother. We collected a room key and went to a dingy room that was large but in need of a good cleaning and remodel. It was to late to go out for any food and we didn't want to face a delivered pizza or its bearer, so we drank some water and ate some worn and well aged snacks from our carry on and went to bed.

TOP | BACK
Dallas, TX to Portland, OR
Monday 1/14
After an uncomfortable night in the no tell motel, we showered, dressed and went to the complimentary breakfast area. A small back room had cereal and some old fruit and an odd assortment of foods including waffle batter and plastic sausage patties that came out of some kid's McDonalds happy meal toy set. Most of it looked like it could be packed away for reuse tomorrow and had been yesterday and probably the day before. We foraged for fresh bits, ate a little, and headed back on a long ride to the airport. We arrived early to avoid further issues and checked in and managed to complete the rest of the trip without incident. We're looking forward to returning to Ireland, but not Dallas in 201?.

TOP | BACK