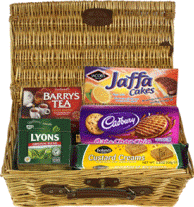 Tea and Cookie Hamper

For those who love a cup of tea and a biscuit, this basket has a delicious assortment of Irish cookies and tea.

* Due to availability factors. certain products may be substituted with items of equal or greater value.
Celtic Holiday Hamper

Barrys Gold Blend Tea Bags 80's, Tea Time Express 6 Inch Christmas Cake, Cadburys Roses 1.5kg, Cadbury's Flake Moments, Tea Time Express Christmas 1lb Pudding, Barrys Decaf Tea Bags 50's, Tea Time Express Mince Pies, Cadburys Chocolate Chip Cookies, Cadburys Dairymilk 400g, Erin Soup x 2, Chivers Cranberry Sauce, Bisto Turkey Granules, Knorr Parsley Sauce. Presented in a beautiful luxury wicker basket.
Donnelly's Irish Black Pudding
An acquired taste, but one of my favorites. Everyone likes beef blood for breakfast, don't they?
Donnelly's Irish White Pudding
More like sausage, another of my favorites.
Beef blood free!
Donnelly Irish Style Rashers .5lb
Donnelly's Imported Irish Style Rashers, pictured here, are produced from high quality bacon using an old style mild bacon cure.
Donnelly Irish Style Sausages
Donnelly's famous Irish Style Sausages. I bet you can't eat just one!